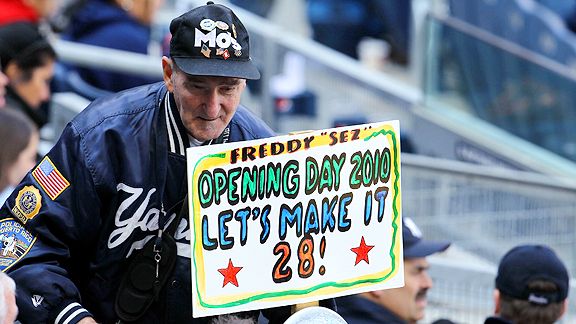 If you are a Yankee fan or like me, someone who loves baseball and has gone to their fair share of Yankee games over the years, chances are you ran into the man above, "Freddy Sez". Fred Schuman was a long long time Yankee fan who would bring a sign, his trademark frying pan and his banging spoon to the game. He would be regularly banging out a "Let's Go Yankees" chant, or let his fellow fans bang the pan for him. He was at every Yankee game that I can remember going to over the past 15 years. My brother and I are convinced that the retired Bronx upholstery shop owner was a millionaire who was able to afford to be at every Yankee game for the last 20 years.
Sadly, Freddy Schuman passed away Sunday afternoon after a heart attack at the age of 85. Schuman was such a revered Yankee icon that at tonight's Yankee game, they had a moment of silence for Freddy Sez. Schuman has one of his trademark frying pans at the National Baseball Hall of Fame in Cooperstown, NY as well as the Yogi Berra Museum in Montclair, NJ.
So what does Freddy Sez' passing have to do with college basketball? Well,
as this NY Daily News article notes
, a lot. Freddy was a "die hard booster" of Fordham and Manhattan men's college basketball. And sure enough, Tieff and I saw Freddy three times at Fordham and Manhattan games the past couple of years. The most recent time was when we went to see
Hofstra travel to Draddy Gymnasium
to watch the Pride take on the Jaspers in 2008. And there was Freddy with his trademark pan, spoon and a sign rooting the Jaspers on. I told Tieff of my brother's and my philosophy of Freddy being a millionaire, and Tieff agreed. I even took a picture of Freddy and his trademark pan at the game. Alas, I can't find the picture of him.
Freddy will be sorely missed by many people. He added a unique and fun element to Yankee and college basketball games. More importantly, he was a dedicated fan to two great sports. Somewhere in heaven, Freddy is banging away at his pans, encouraging his teams on from above.